Hetty Colman loves her life in the cosy seaside town of Swallowtail Bay, organising children's birthdays, anniversaries and retirement parties. But after her recent break up from long-term boyfriend Ben, she's been searching for something new.
So, when Hetty overhears locals wondering how to return the old strawberry festival to its former glory, she jumps at the chance to relaunch it. There are just two problems – she only has four weeks to organise it and absolutely nowhere to host it!
When Hetty manages to convince the aloof, yet extremely handsome, John Thornhill to use the grounds of his rundown manor, things start to look up. But as Hetty and John grow closer and Ben tries to win back her affections, can Hetty make the festival and her love life run smoothly at the same time?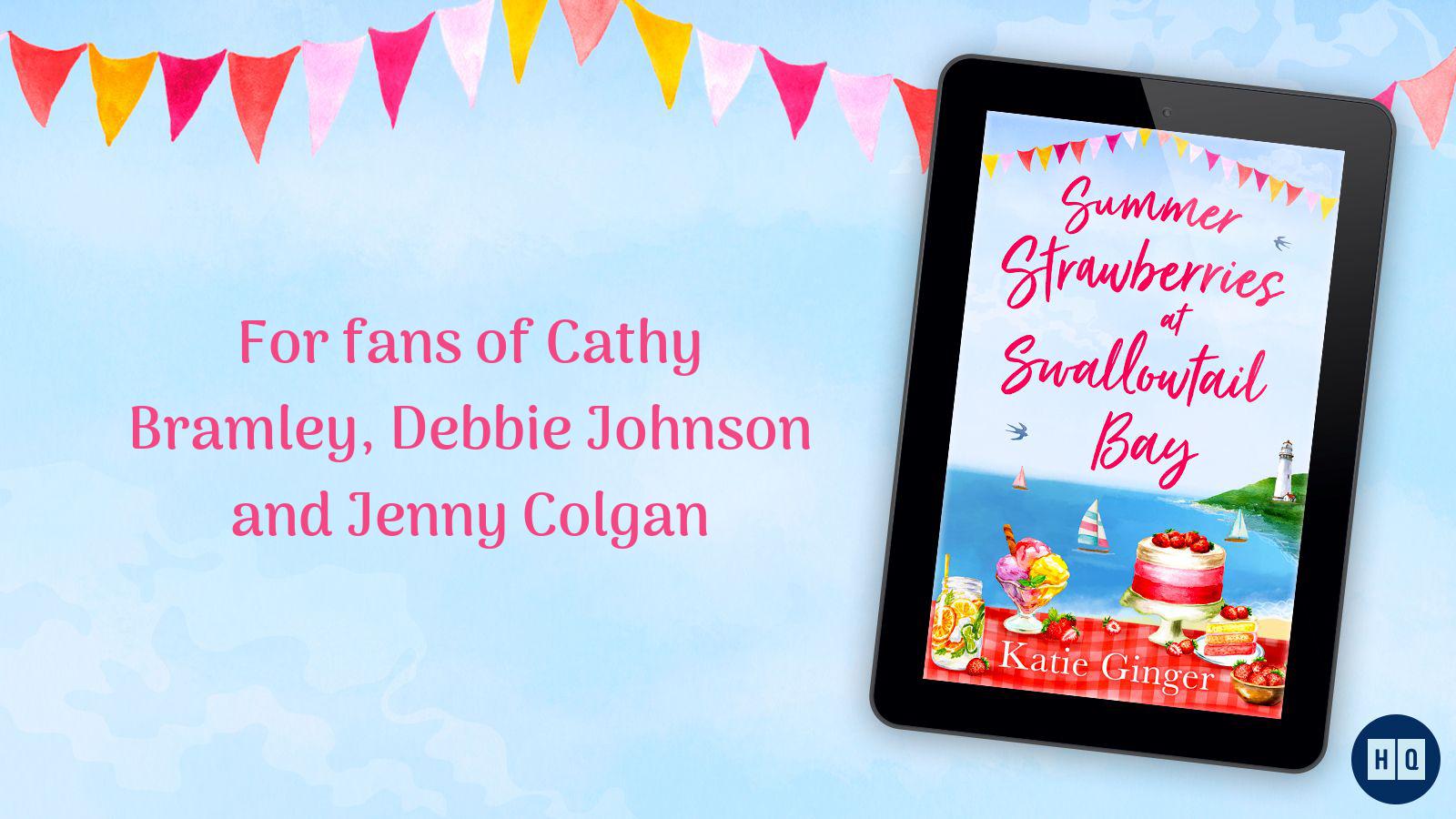 After absolutely adoring Stella's story in the first book of Katie's new series, Spring Tides at Swallowtail Bay, I couldn't have been more excited if I tried, to be returning to Swallowtail Bay for another gorgeous story between Hetty and John. 
Hetty Colman is a character you are going to immediately fall in love with. Her confidence exudes out of the book from the very first page and her passion was truly inspiring. She was a woman who refused to be told "no" and when she wanted something, nothing or nobody could stop her from achieving that. As an event planner, her organisational skills had to be near-perfection and it was clear as day, this came naturally to our leading lady, along with graceful problem solving. A lot of difficult situations she had to deal with, lead to me giggling away and made me realise how unprofessional I still am, as I would have not been able to keep it together. Speaking of keeping it together, whilst Hettie is one organised lady, that doesn't mean that she doesn't have bumps along the way and find herself overwhelmed with more than she had bargained for. Not only was she trying to organise Swallowtail Bay's biggest festival – she also had to deal with the oh so grumpy, John Thornhill, who refused to partake in something spectacular AND the spark between her parents was dimming fast! 
John Thornhill is definitely a man that you will either love, hate or both! At least to begin with. We meet him in a very flustered and stressed state, quite dismissive towards Hetty without giving her a second to speak and luckily, as the story begins to flow, we learn more about him and why he behaves the way he does. Hetty captured John's heart, as quickly as she captured my own and I was very amused at how quickly she managed to persuade him to become her business partner. Boss ladies usually do tend to have that affect on people. He is quite the opposite of Hetty, in which he lacks confidence and can be awkward in certain situations – personally, I found it sweet and endearing, as he wasn't expecting Hetty to be the feisty woman she is. Gradually witnessing him come out of his shell and face his own problems was such a pleasure and Hetty really did have a lot to do with that – she was a blessing to him and his family! He really was an absolute sweetheart when he let his true personality take a step in the spotlight and I was rooting for him all the way to the end! 
I had so much fun getting to follow Hetty and John on their journey to creating the festival that was going to put Swallowtail Bay back on the maps, even if that did mean reuniting with some rather unpleasant people. The passion and ideas that bounced between one another always had me with a smile on my face and let's just say, I was a big cheerleader throughout in hoping that everything was a success. Like any large event, nothing ever runs smoothly and there was most certainly some hiccups that occurred – some larger than others – keeping you on the edge of your seat, but Hetty and John handled them like pro's. It was really lovely to see what food stalls were contributing to the event, along with the fair ground, especially with reappearances popping up from the main three ladies in the first book of the series, Stella, Raina and Lexi. It felt like you were returning home and reuniting with friends! 
Summer Strawberries at Swallowtail Bay is all about friendship, partnership, community, heartbreak, and following your dreams. You will come away from this book feeling inspired and filled with hope, so as per usual, Katie has smashed it again with this gorgeous story and I can't wait to get my hands on the third and final book already! 
Shelby x